Steps on how to plan a safari in Africa

When planning a vacation to Africa, some people already have their hearts set on a country or two. Others, on the other hand, are still completely clueless. We prepared several tips that are not necessarily in order but are laid out to help you to kickstart your African holiday brainstorming. Here are our 6 Steps On How to Plan your Safari in Africa:

Step 1: Where to Go and What to See
Step 2: Consider Travelers and Preferences
Step 3: When to Go
Step 4: Set Your Budget
Step 5: Choose your travel provider
Step 6: Book Your Flights & Get Ready
Step 1: Where To Go and What To See
Like any other vacation, one of the most important parts of planning is deciding where to go. You see, Africa is huge. If you are clueless, your Google search bar would contain something like "where to go on a safari in Africa"
For you to be able to pick the perfect safari country for you, you need to know the wildlife you would want to explore. Is there a particular animal or event you wish to see? If you are hankering to witness the Great Wildebeest Migration, Kenya and Tanzania around July to October is your best bet. For massive herds of African elephants all year round, go to South Africa or Botswana. The "Big Five" are also very abundant around East Africa and most countries in Southern Africa. For gorilla trekking, head on to Uganda, Rwanda and the Congo, all of which you can find in Central Africa. Uganda is also the best place to find chimpanzees if that interests you.
The next big question you will probably have is,
How early to book your trip?
Some would say that booking it a year early is most ideal. The truth of the matter is, your booking can be from a month to a year (or even more, for some) depending on the number of travelers, size of the lodge/camp and time of the year you plan to go. If you are going solo or as a couple – probably for an anniversary or a honeymoon – booking a year early is not necessary. One month or even a few weeks lead-time is usually enough UNLESS you have your eyes fixed on a certain location, lodge, and dates, and you regard these specifics as non-negotiable.
Also, you have to note that the more time you have to prepare, the more prepared you'll be in leveling expectations. However, there is also a downside to booking very early. A year is long and we don't know what will happen within that period of time. But then again, if you are determined to avoid unnecessary disappointments and you already have your heart set on a certain date, event or lodge, book it ASAP.
If you are going as a group, booking as early as possible is wise because you may need several rooms. Safari lodges/camps have a limit to how many people they can cater to. For example, a luxury safari camp can only accommodate around 20 people. This is also the reason why the size of the lodge or camp matters in how far in advance you need to book. Another important detail you need to consider is the date of your visit. During peak seasons, you'll be surprised how most accommodation is already at capacity about a year in advance.
Step 2: Consider Travelers and Preferences
Every traveler or group of travelers naturally have different wants and needs.
Are you traveling with kids? How about seniors? Most people who travel with kids or seniors would want to have fewer layovers as possible. So, make sure to check the travel routes available in your country of departure and have a list of your backup airlines, just in case. Also, younger kids and older adults might not want to go on a long safari drive. Tell your operator about this and they might arrange a special activity for them or maybe even delight them in a short safari drive. Childminders, or babysitters as popularly known in most countries, are also available upon request.
Another thing you might want to think about is diet. Do you have any special dietary restrictions? Perhaps a gluten-free or vegan diet? If so, you need to specify these with your travel operator.
Lastly, maximize your vacation. Aside from the safari game drives, what activities do you want to do? Depending on the country or park, here are the most exciting things you must try:
Hot air balloon: Tanzania, South Africa, Namibia, Kenya, Botswana
Skydiving: South Africa, Tanzania, Kenya, Botswana, Namibia
Scenic Flights: South Africa
Relax on a Beach: Tanzania or Kenya
Diving with Great White Sharks: South Africa
Mountain Hike: Mount Kilimanjaro (Tanzania), Mount Kenya (Kenya), Drakensberg Mountains (South Africa), Rwenzori Mountains (Uganda)
White water rafting: Uganda
Whale- and dolphin-watching: South Africa
Bungee Jumping: South Africa
Kayak: Rwanda, Botswana, South Africa
River cruise: Uganda, Botswana, Tanzania
Surfing: South Africa
Scuba diving: Tanzania, South Africa, Kenya
Volcano hiking: Rwanda
Step 3: When to Go
Another vital detail in planning is WHEN you intend to visit Africa. At what time of the year do you plan to go?
Does it fall on a low, mid, or high season?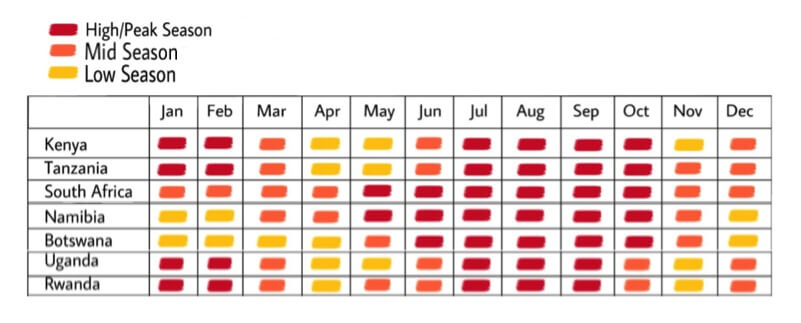 Countries get more crowded, prices get steeper and safaris get fully-booked faster during peak season. This is the opposite during the low season. Cheaper prices, fewer tourists and a relatively higher chance of booking your desired safari accommodation/tour/activity even with minimal lead time. You have to consider, however, the animals you want to see and the activities you want to do.
If you are aiming to see certain animals or witness a particular event, like the Great Migration around July to October, you also need to familiarize yourself with the seasons of your target country and the perfect time to see them. Game viewing is best during the drier and hotter seasons, although it is generally good in most parts of Africa all-year-round. For birding, it is known to be better during wetter months when nesting and breeding take place, and most migrant birds inhabit the area.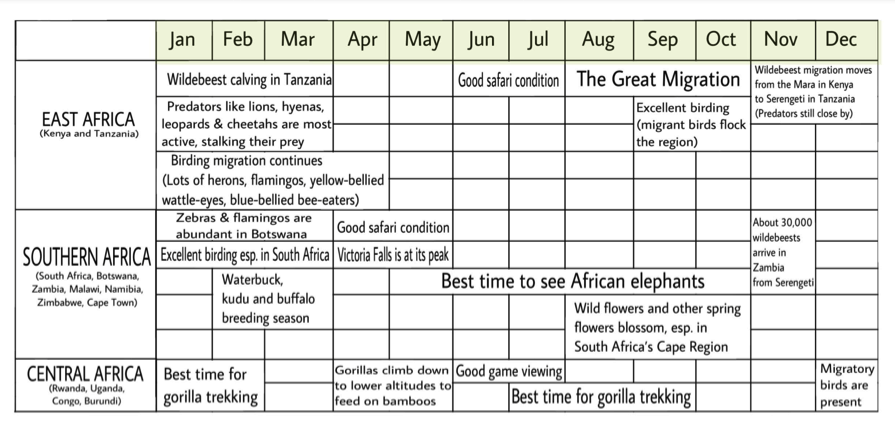 See top safari destinations in each country:
Tanzania
Kenya
Uganda
Rwanda
South Africa
Botswana
Namibia
As there is a long and varied list of activities you can do, you should also take into account those that you wish to experience and of course the purpose of your travel.
Are you on a honeymoon or a romantic getaway?
If so, what activities do you want to add?
Perhaps a romantic candlelight dinner by the bush or maybe a hot air balloon ride?
Are you traveling with kids or elderlies? Because let's face it, tagging kids along is a game-changer.
Also, elders aren't so much inclined to long drives and an adventure-packed itinerary like younger travelers.
How about walking safaris?
Beach trips?
How many days do you want to spend on a safari?
Why should we consider all these factors?
Some activities may not be available in some countries.
Like if you want to go to the beach after a week in the safari, some areas in Africa don't have beaches.
Some activities may not be as enjoyable for particular age groups.
Although fairly flexible, each camp and safari tour has age restrictions. Some lodges and safaris don't even accommodate children below 6 and have limitations for visitors aged 6-12. A number of them also offer childminders aka babysitters for an additional cost.
Some activities may not be gratifying or maybe even plausible during a particular time of the year.
During heavy rains, many animals disperse and vegetation is lush thereby increasing the chance of an obstructed game viewing. Some roads can also become impassable or extremely muddy so gorilla trekking could be difficult, game drives limited and you wouldn't possibly want a walking safari by then. Some lodges and camps could be closed, too. That's why if you come around these months, you have to make sure your desired accommodation is open and available. Another issue with the rainy season is that excellent photo opportunities are rare.
Budget (which brings us to Step 3)
Step 4: Set Your Budget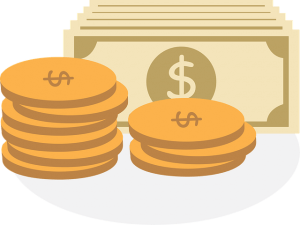 Setting a budget is not an easy task unless you have a gazillion extra dollars in the bank. So if you want to maximize your African experience and at the same time stay on budget, you need to set how much you are willing to spend for the safari alone. Flight costs aren't inclusive so you also have to consider this one. Of course, fares vary depending on your place of departure and dates of travel. You can check the airlines ahead for an idea or if you're lucky, you might even score a good deal.
A typical safari covers 7 days and is usually all-inclusive for meals and accommodation, except the last day of stay. Prices can go as low as 120USD a day during low season and as high as 1000+USD a day during high season.
To give you an idea, a sample 7-day safari in Tanzania for 2 people during peak season, all-inclusive of meals, accommodation, park fees, VAT, private four-wheel vehicle, professional guide, and driver,
A budget safari would cost $2791 per person
A midrange safari would cost $3149 per person
A luxury safari would cost $3584 each
Other expenses include:
Tips for
Guide: usually 10-20USD per day
Transfer driver/taxi: at your discretion but budget 1-2USD per ride
Hotel staff: also at your discretion but budget 1-2USD
Additional drinks (alcoholic drinks are seldom included in all-inclusive packages, only bottled water, and soft drinks are)
Visas, medical insurance and comprehensive travel insurance
Vaccinations
Souvenirs
Based on your budget, you will find a wide array of options that will suit your liking from budget to mid-range to luxury safari trips. Of course, you can't expect a shoestring budget to get you a luxurious one. But also, you can have enough money to afford a luxury level trip but not necessarily stay in luxury lodges. Instead, you might want to stay longer, visit more attractions or perhaps spend a day or two at the beach.
Besides, all tour operators offer the same destinations and animals. After all, there is only one Maasai Mara, Serengeti, Etosha Park, etc. Right?
It all boils down to the:
Type of accommodation you'll sleep in
The assumed level of service
Quality of the tour
Just note that national parks are a tad less expensive than private reserves. Travel enthusiasts claim to have saved about 25USD in national parks. Also, if you want to join a group, it will cost you less but not all countries offer group-joining safaris.
Step 5: Choose your travel provider
African safaris are famous for their stunning natural beauty — from the breathtaking landscapes of the Maasai Mara in Kenya to the fascinating wildlife in the Serengeti in Tanzania down to the bewitching beauty of South Africa, it is an adventure of a lifetime. However, many people find themselves trapped in an endless dilemma:
Should I self-drive or book with a safari operator?
To many, self-driving gives them a purer sense of adventure. While this is true when you travel to most countries in the world, it could be quite different in Africa.
SELF-DRIVING
Pros:
More budget-friendly especially if you know where to go. Also, driving from one place to another is significantly cheaper than flying.
You can travel at your own pace so you can see more of what you want to see and linger at places you want to stay longer.
You can explore for yourself and feel that sense of wanderlust.
Cons:
There are a lot of bumpy roads and closed roads you cannot access. You might find yourself driving back a couple of times, going around and trying to find your way. But then again, if this is your kind of adventure then why not?
Most places in Africa are remote. If your vehicle breaks down in the middle of nowhere and you are unprepared, and there's no network…..
TOUR OPERATOR
Pros:
You can save a lot of time from traveling from one place to another and spend more time at parks, reserves and other attractions.
In case something goes wrong with the vehicle, operators are well-prepared and equipped with tools. Plus, they know the areas very well so getting help would be a piece of cake. Besides, all their vehicles are very well-managed and maintained.
Guides and drivers are long-time experts who could bring you to exactly where the big games are. They usually have access to roadblocks, too. Otherwise, they are very knowledgable on all the road twists, turns, and bumps.
With a very experienced guide who is proficient in African history and culture, you will be able to learn more as you travel. Fun facts and background stories will be imparted in the most educational and entertaining ways.
Your utmost comfort and convenience are always guaranteed. Snacks and beverages are provided as well.
Cons:
Time can be restrained with safari guided tours as you have an itinerary to follow. However, know that you always have a say when planning your entire trip ahead of time. Safari operators are very adept at making tailor-made safaris.
Relatively more costly compared to self-driving, especially because you need to tip the driver, guide and hotel staff.
Whatever your choice, Africa is sure to provide you an unparalleled experience. If you decide on self-driving, you can self-drive in these countries:
Namibia, Botswana, South Africa, Kenya and Tanzania
If you go with booking with an operator or guide to see the best of African safaris, picking the right one can make all the difference to the quality of your trip. That's why it is critical to know what to look for when choosing your African safari operator from among the thousands available today.
Step 6: Book Your Flights & Get Ready
Airfares vary depending on where you are traveling from when you are going to travel and if it is a direct flight or a connecting one. You may also want to consider your travel buddies. If you have kids in tow, you may not want to have a long layover. Also, if you are planning for a multi-country safari, you might want to check if flying to country A and out of country B is more economical than the other way around.
Some travelers prefer booking early (as early as one year in advance). This gives them the advantage of securing seats and accommodation on their desired dates PLUS it also gives them a significantly higher chance of scoring lower rates on airfare and possibly on other things, too.
So now that you have made your research, you are ready to book!
When all is set, what's next?
What to pack. Just like any other holiday vacation, you need to pack your essentials. But since Africa is not just like any other destination, you might need to add or take out a few stuff on your list.
Medications. Prevention is always better than cure. And because a trip to Africa gives you a higher risk of contracting a disease, you may need travel vaccines so make sure to check in reputable sites such as CDCP and WHO.
Visa. Visa requirements vary per country so check online or through their embassy in your country.
Travel safety. Not all countries in Africa require insurance but it's best practice to always have one.
Do you have any Questions about Safari or Kilimanjaro Climbs to Africa?  Feel free to ask any Questions about Africa, it's easy  Click here and ask any Questions you may have about Africa and our Panel of Travel Experts will be happy to help you free of charge ~ The only Unbiased advice about your Safari!